Nintendo's spring Nindies Showcase was presented on March 20th. Since the brilliance of Stardew Valley, Celeste, Moonlighter, Minit, and others like them, indie games are making headway like never before, and Nintendo took full advantage. Rightly so! Listed below are my most anticipated games for the Switch that were shown at the Nindies Showcase.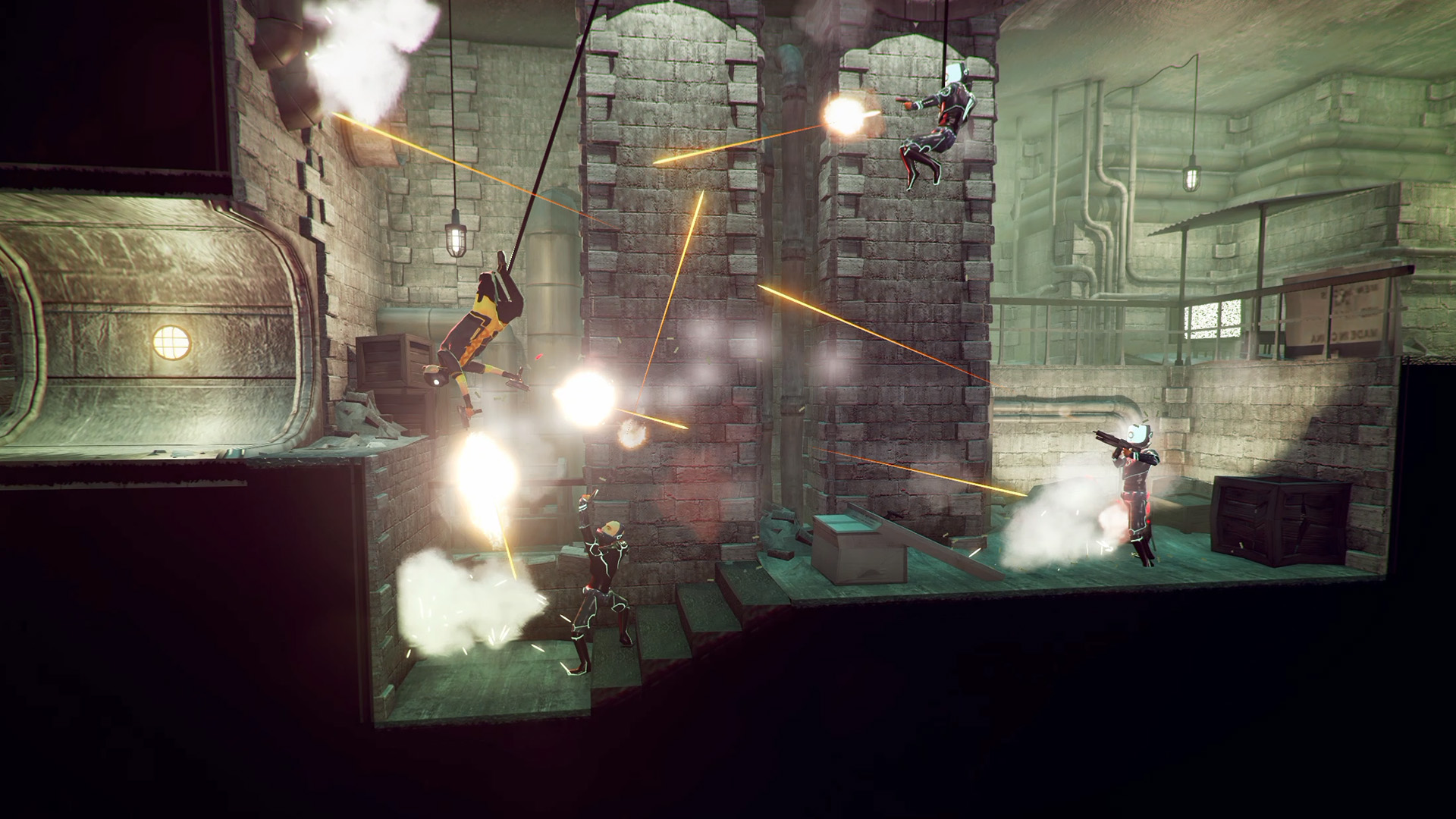 My Friend Pedro: Damn, John Wick 3 looks insane. But for real though, how about this mainly side scrolling action romp that sends you out to kill gangsters all because of a sentient banana (according to Steam's semi-vague description)? From the wild split aiming and gun combat, to the slo-mo and physics based puzzles, to the mysterious banana, My Friend Pedro sounds like one unique take on violence and destruction. Beyond intrigued over here.
Cuphead: With that 1930's Disney cartoon feel, side scroll shooter style, and epic boss battles, is it any wonder Cuphead is the perfect match for a portable system like Switch? With its unconventional look and attention to detail (hand drawn cel animation, watercolor, original jazz jams!)  Cuphead has become a phenomenon, with nearly 39,000 overwhelmingly positive reviews on Steam since its release in September 2017. It looks as though creativity is in high fashion right now, and I'm so here for it.
Overland: Overland is set in a post-apocalyptic North America (always a good time), with procedurally generated levels and "squad-based survival strategy" as described by Steam. It's an easy to learn game but with difficult obstacles, such as low fuel and weapons, and you'll have to work together to make the best decisions needed to survive. The wasteland of future America sure looks like fun to me.
The Red Lantern:  When I was little I had a strange fascination with all things snowy, which was probably influenced by my perpetually sunny surroundings in Florida. I also loved the movie Balto. So imagine my delight when I saw The Red Lantern trailer, which throws you straight into the Alaskan wilderness and the famous Iditarod dog sled race, testing you with blizzards and angry bears and constant doggy health maintenance. Can you survive?! Well, at least you're not additionally tasked with delivering life-saving diphtheria medicine in 1925. That would suck. Now mush!
---
Darkwood: Darkwood has been scaring the pants off players since August 2017, and it's finally about to take the fear further with the intense intimacy of a Switch console (you ever play it three inches from your nose? Cause I do). With a clever top-down perspective, no quest markers, and lots of shadows and tension, Darkwood implements an ever-changing, eerie forest where you search and craft by day, and attempt to survive the night by setting traps and defending yourself from the horrors that lurk behind every tree.
Katana ZERO: With a cinematic story and neo-noir stylized 2D graphics, Katana ZERO allows players to kill their enemies with traps, explosives, and slash and dodge their way to victory. You can deflect gunfire, manipulate time, and immerse yourself in quick action – all in an attempt to defeat your foes in the most gruesome and interesting ways possible, while finishing each level with one of the countless methods of completion.
Bloodroots:  Revenge! That's what Mr. Wolf is after in the top-down action game Bloodroots. All alone, Mr. Wolf makes use of his environment to slice, dice, and perform intensely violent combos. Makeshift weapons are all around (with each one providing pros and cons), and improvising combos makes for one engrossing game (with a leaderboard even), set in a world filled with quirky Wild West characters and handcrafted, vivid landscapes.
RAD: Ready to save the world? In action rogue-lite RAD, which is set in a post-post-apocalyptic world, you'll have to journey into radioactive wasteland the Fallow, where you look for the solution to heal the dying world you left behind. The problem is, it's only you and your bat, and the toxins within the Fallow will change you, giving you new abilities and mutating you into something far beyond human. Sounds spooky, and yes, rad too.
Cadence of Hyrule:  Whatever I was expecting from the Nindies Showcase, it certainly wasn't a Crypt of the Necromancer meets Legend of Zelda mashup. And yet, it's somehow exactly the thing I want, and I wasn't even aware until that day. That's always a beautiful thing when that happens, don't you think? Anywho, Cadence of Hyrule is a rhythm top-down roguelike that allows you to play as one of three characters: Cadence, Link, or Zelda (!!!). The levels are randomly designed but feature plenty of Legend of Zelda items and remixes of its soundtrack. The goal? To attack and defeat your enemies to the beat of music.
----------
I LOVE indie games and feel that they should be appreciated more often, so thank you Nintendo! Which Nindies Showcase game are you most excited about?